Give a boa for a birthday, say "I love you" with a lemur, take a panda to a party or give a tortoise to your teacher. Whatever the occasion, give a truly unique gift that lasts all year, a Care for a Critter package!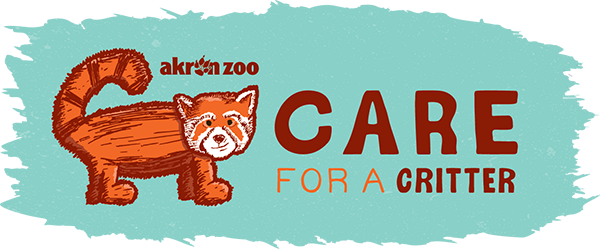 When you Care for a Critter, you help the Akron Zoo provide food, medical care, habitat maintenance and conservation programs for one year.
---
A Spooky Sponsorship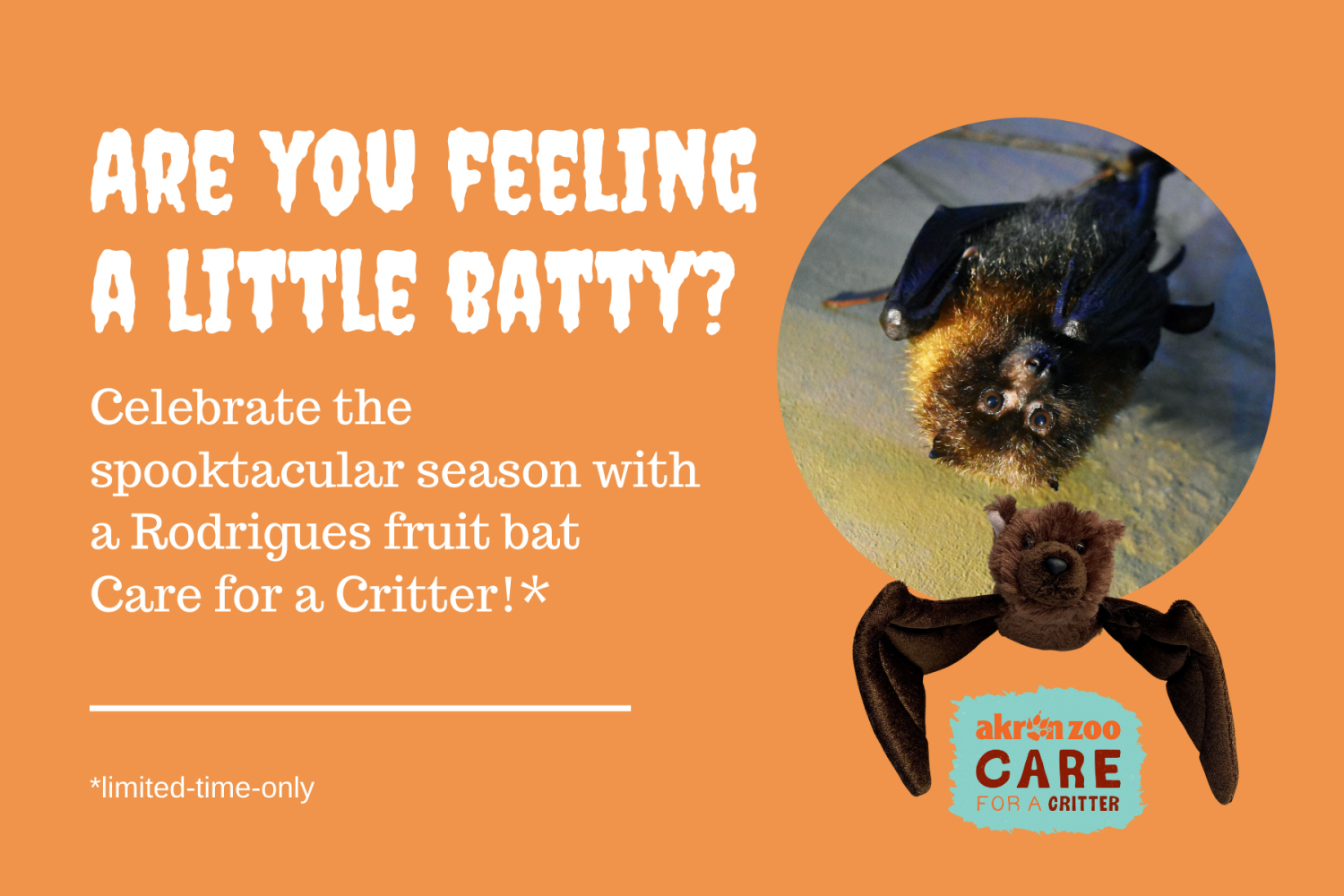 Get a little batty this Halloween season by sponsoring our Rodrigues fruit bats while also helping provide all of our bats with food, medical care and habitat maintenance!
With a bat Care for a Critter package, you'll receive :
Photo of Garth, one of our Rodrigues fruit bats
Fruit bat fact sheet
Bat plush
Official certificate of adoption
Price:
Please allows 3-4 weeks for package delivery. For international shipping, additional charges may apply. Limited quantities are available.
---
Step 1: Pick Your Critter
You can choose to sponsor any animal species at your Akron Zoo, but plush is only available for featured animals, while supplies are available.
Featured Animals:
*Rodrigues fruit bat

African lion
Chilean flamingo
Galapagos tortoise
Humboldt penguin
Red panda
Ring-tailed lemur
River otter
Snow leopard
Special Care for a Critter promotions
*Limited time only
Step 2: Pick Your Level
Decide what benefits work best for you! Every sponsorship level includes a personalized certificate of sponsorship, an animal fact sheet and a color photo.
| | | | | |
| --- | --- | --- | --- | --- |
|   | $50 | $75 | $150 | $250 |
| Photo | X | X | X | X |
| Fact Sheet | X | X | X | X |
| Official Certificate | X | X | X | X |
| Plush Toy | X | X | X | X |
| Keychain |   | X | X | X |
| 2 guest tickets to the zoo |   |   | X | X |
| Rise and Shine Safari* |   |   |   | X |
*All Rise and Shine Safari tours must be scheduled at least two weeks or more prior to your visit by calling 330-375-2550 ext. 8973. Each tour can accommodate a total of two guests and includes general admission and parking for the day following your tour. Tours are not available for all sponsored animals. All tour participants must be six years or older.
Step 3: Purchase Your Care for a Critter
You can purchase your Care for a Critter package online or through the mail. Are you purchasing yours as a gift? Make sure to have the gift recipient's info ready.
Online
Mail
Send in the order form to:
Akron Zoo
500 Edgewood Ave.
Akron, OH 44307
Please allow 3-4 weeks for package delivery. For international shipping, additional charges may apply.
For more information, contact Allyson Boyd at 330-375-2550 ext. 7277 or a.boyd@akronzoo.org.