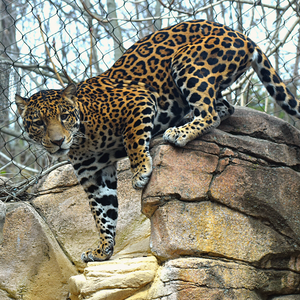 Of all the cats in the Americas, jaguars are the largest. In fact, they are the third biggest cat in the world behind tigers and lions. Jaguars are an umbrella species for biodiversity conservation, meaning that protecting jaguars can indirectly provide protections for other species in the same ecosystem. International Jaguar Day was created to raise awareness about the threats facing the jaguar and conservation efforts to help ensure its survival.
The Akron Zoo's Legends of the Wild is home to one female jaguar, Milan.  Milan came to the Akron Zoo from the San Antonio Zoo in December 2019. She made her public debut in June 2020 once the Akron Zoo reopened after being closed due to the COVID-19 pandemic. She loves to interact with her keepers and swim in her pool.  She also loves sitting in her tree on habitat and watching Atlantis, the capybara who lives next door.
Sadly, the jaguar population is in decline and their conservation status is "near threatened."  Their population loss is mostly due to illegal hunting, deforestation, and loss of native prey. Jaguars are an apex predator, which means their hunting activity keeps the small-prey population in check. Without them, small animals would overpopulate and overwhelm the ecosystem by overgrazing, which is detrimental to plant life.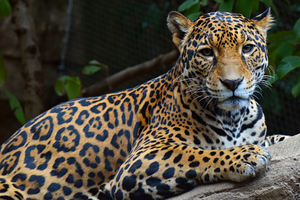 Jaguars are magnificent creatures.  A fun fact that I love to share about them are that they do roar.  Their call is named a "saw" because it sounds like the sawing of wood, only it's moving in one direction.
To learn more about jaguars and more than 1,000 animals from around the world, visit your Akron Zoo. A portion of the proceeds from ticket sales helps us fund conservation projects, both locally and globally, and protect species from extinction.