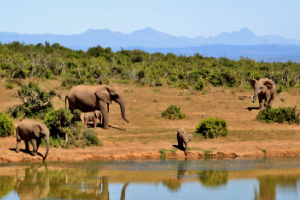 July 31 is the anniversary of the International Ranger Federation (IRF), established in 1992, so it is only fitting to commemorate World Ranger Day on this date. The IRF raises ranger awareness and partners with organizations to ensure that the world's wildlife parks are free from destruction, poaching and theft. The job does not come without costs and it is estimated that roughly 1,000 rangers have lost their lives in the line of duty in the past 10 years. Today is a day to thank rangers throughout the world and remember those who lost their lives in the line of duty. 
Wildlife rangers can be found all over the world, including extremely dangerous areas such as central Africa, where poaching is commonplace. The job is often thankless and does not pay well. In central Africa, rangers typically only bring home $150 a month. They continue to work these jobs because of their strong belief in the mission, despite it being their only source of income.  
Partnering to Protect Species
Your Akron Zoo understands and supports the ranger mission by sponsoring rangers around the world. Through our partnership with Rebuilding the Pride, we were able to donate $10,000 during the opening of our Landon and Cynthia Knight Pride of Africa area in 2019 to support local Massai community rangers in Kenya. These rangers do essential conservation work while teaching locals to coexist peacefully with lions and other wildlife.
The zoo also supports the Red Panda Network, and thanks to contributions to our Conservation Fund, we were recently able to fund capacity-building training for 28 Forest Guardians. Forest Guardians are individuals in western Nepal who are paid to monitor and protect red panda habitats from hunting and poaching, as well as educate communities about red panda conservation.
How Can You Participate? 
If you are interested in making a difference and celebrating hard working rangers around the world, there are many ways to get involved.
Thank a ranger for all the work they do. 
Light a candle in remembrance of those rangers who lost their lives in the line of duty. 
Post a message about World Ranger Day on social media to raise awareness.  
Donate to the Akron Zoo's Conservation Fund to support rangers around the world.
Host a ranger to come speak at a school or event about what they do. 
Today we remember all those rangers who are no longer with us and thank those who are serving or have served to protect wildlife and wild places.   
By Sarah McClain, Communications Intern and Erica Rymer, PR Coordinator. Published July 31, 2019. Updated July 31, 2022.