At the Akron Zoo, we work hard to connect your life to wildlife through lifelong learning. Many people don't know that the Akron Zoo is home to all kinds of STEM-based programs. STEM programming allows our Education Department to focus on subjects like Science, Technology, Engineering, and Math and how they relate to animal care and conservation. We offer many programs with a STEM focus, from Summer Camps to afterschool events and even special programs for schools. All of these programs are designed with the students and their engagement in mind, and for National STEM Day, we wanted to give you an inside look at just a few!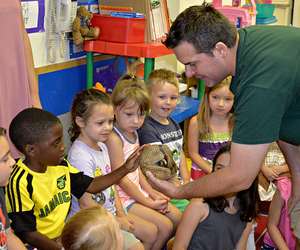 One way the zoo provides STEM education is by partnering with schools and other organizations to offer STEM-based summer camps though our ZooMobile programs. ZooMobiles allow us to make connections with people outside of the zoo by bringing our staff and animals to them. ZooMobile summer camps take place at schools throughout Northeast Ohio and last about a week. Students learn how to build bird nests, design beaver dams, and create habitats for the animals while competing in STEM challenges. 
Another engaging STEM program the zoo offers is the STEM Enrichment Challenge, done in partnership with the NIHF STEM Middle School and the Martha H. Jennings Foundation. We use the Problem Based Learning (PBL) model to challenge students to help the zoo with a "problem" we have. Students are asked to help our keepers create enrichment for the animals at the zoo. Enrichment is something we provide for all of our animals to help keep their minds stimulated and encourage their natural behaviors. In this challenge, we end up stimulating not only the minds of the students, but also our animals! Students work in groups to interview keepers and design fun enrichment for the animals they care for. Interviewing the keepers teaches students that animals have species-specific behaviors, but are also individuals with their own likes and dislikes. Once the students finalize their designs, a panel of zoo staff judges the project. Winners get to help build their designs for the animals and see the animals receive their enrichment at the zoo. We have had many successes over the years – from feeder balls for the electric eels to fake trees with a modified "beehive" for the bears to a firehose hammock for snow leopard cubs. Animals and students alike seem to be delighted with the projects!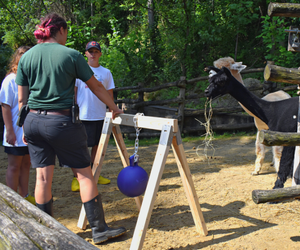 The Akron Zoo also partners with St. Anthony of Padua's school for an afterschool STEM program. This program is a 12-week STEM extravaganza where we focus the first six weeks on team building with different STEM challenges. The next six weeks we focus on STEM careers at the zoo and how to build skills used in those professions. Zoo vets, keepers, architects, and even horticulturists talk to the students about their careers and responsibilities at the zoo, then students spend time developing skills they might need in that career or even in their own lives. We build birdhouses after learning how to use the tools, design habitats for zoo animals, and even learn how to inject bananas with dye to mimic medical injections. Each week the students come back even more excited to learn all about STEM at the zoo. 
These are just a few examples of the STEM programs offered at your Akron Zoo. Our staff loves talking about their careers in the STEM field and teaching students about how STEM can be applied to caring for the animals at the zoo. Hopefully we can use these programs to inspire the next generation of STEM experts here at the Akron Zoo!