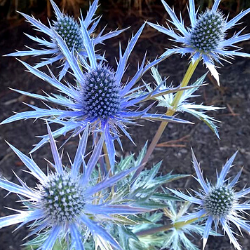 It is hard to miss the neon blue, spiky plants lining the pathway as you enter the Akron Zoo's new Wild Asia. Horticulturists have gotten radio call after radio call about this unusual, thistle-like plant: Eryngium x zabelii or "Big Blue" Sea Holly.
It's rare to see true blue in the plant world, so we knew that Sea Holly would be a guest favorite! Not only is this plant beautiful, it is also drought-tolerant. Water conservation is always a priority when choosing new plants for the zoo, and Wild Asia is filled with plants that will not need supplemental watering in drought conditions.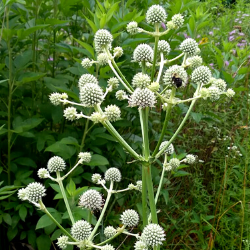 Sea Holly is not the only plant in the genus Eryngium at your Akron Zoo. You can also find Eryngium yuccifolium, or Rattlesnake Master, near our Wild Prairie pavilion. Rattlesnake Master is a little less eye-catching with mint green flowers and foliage, but it is still a very unusual looking plant. The leaves are sword chapped, similar to many species in the genus Yucca (hence the species name, 'yuccifolium'), and they send up a very tall, spiky, green flower that is a favorite of native bees and butterflies. 
Be sure to stop by your Akron Zoo to see these and many other species of plant, and keep an eye out for our next featured plant of the month!