"Bamboo" is still a word that makes zoo horticulturists cringe; and considering it's aggressive nature, rightfully so! It is impossible to miss the dense, linear and somewhat oppressive stands of this plant as you tour the zoo grounds. As theming was being developed for Lehner Family Foundation Wild Asia, critical decisions had to be made by horticulture staff about an inevitable bamboo collection.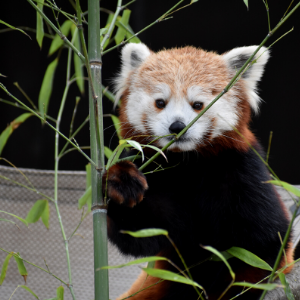 Bamboo has been a staple in zoo plant collections across the country for decades because it has "the look." No plant can visually transport zoo visitors from suburban Akron, Ohio to the forests of Asia quite like bamboo. It immerses the observer in a jungle-like atmosphere, hiding any air-conditioner unit, maintenance shed, or security fence that might detract from the "wild" experience. It grows rapidly, creating dense thickets. Plus, it makes a great snack for our red pandas, so why wouldn't a zoo horticulturist want it everywhere? 
As a public garden, the Akron Zoo carefully considers all of the characteristics of the plants in our collection. While our plan favors plants that are native and non-aggressive, there are still certain instances when zoo theming and animal-friendliness are the traits that ultimately drive our plant choices.
Horticulture Manager Kris Jackson would describe bamboo as "extremely persistent." There are many tips and tricks to containing bamboo that nursery workers will try to sell you on while peddling the plant. In our experience, though, running types of bamboo - like our most commonly used, Phyllostachys nuda or 'nude sheath bamboo' - do whatever they want to do! They are typically unfazed by many forms of attempted "containment." Here at the zoo, frustrated horticulturists have witnessed this subterranean spread underneath sidewalks, fences, and even into animal habitats!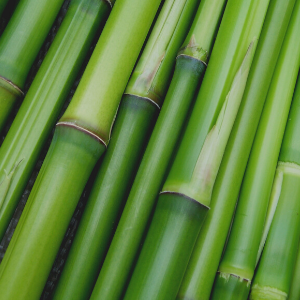 The apple-green culms of our nude sheath bamboo have caught the eyes of zoo visitors for years. While we appreciate this attention from our guests, we have done our best to discourage them from creating invasive nightmares in their own yards. We offer lists of plants that are much less aggressive, and much friendlier to the Ohio landscape. The conclusion we have come to, however, is that we must actually lead by example. When fielding questions about our bamboo, it is sometimes a tough conversation. For many years, I've told guests "do as I say, not as I do" as far as buying and planting the stuff. 
Luckily, the conversation is going to become much easier with better practices that have been incorporated throughout Wild Asia. Most bamboo areas are surrounded by concrete. Additionally, we have installed thick plastic deep into the ground around our bamboo to prevent new plants from spreading underground. This is neither a cheap nor an easy solution, but an entirely necessary one for containing a plant with invasive qualities. We also plan to clear-cut sections to revitalize the individual culms as the plants age, as well as fertilize the stands on a regular basis, so that they have nutrient-rich soil. This may seem counter intuitive, but by providing nutrients where the bamboo is planted, it discourages bamboo from spreading its roots to find "food" elsewhere. By stressing the aggressively proactive lengths that zoo horticulturists will need to go to for the long-term care of this needy plant, we hope to discourage the average homeowner from biting off more than they can chew!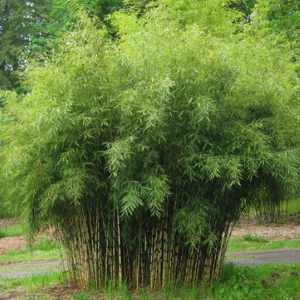 There are options, however, if someone absolutely has their heart set on bamboo for their own garden. Clumping bamboos, Fargesia rufa and Fargesia scabrida are much friendlier species for Ohio backyards. Their growth-habit is similar to an ornamental grass, growing thicker each year, but without the pesky underground runners. These bamboo varieties develop attractive red and green checkerboard-patterned canes when mature, and can provide screening much like running bamboos, they are just a bit shorter. Both of these Fargesia species will be present in Wild Asia.
'Nude sheath bamboo' has the largest presence in Wild Asia because of dense screening qualities and cold hardiness. However, if you look closely, you will also be able to view: 'yellow groove bamboo' (Phyllostachys aureosulcata); 'blue bamboo' (Phyllostachys nigra); 'green Chinese timber bamboo' (Phyllostachys vivax); and 'black bamboo' (Phyllostachys nigra.) throughout the area.
All of the bamboo species in Wild Asia are on an approved list of plant material that can be used for animal enrichment or diets called the "browse list." If you see animal care staff members cutting large clumps of bamboo, they are either taking them to the red pandas as a food source, or to other animals to chew on or play with.
Building a collections plan for any public garden is a challenge; when you add that public garden to a zoo, the challenges are unique and endless! Our bamboo management here at the Akron Zoo is just one example of how we are working to protect our native landscape while still providing an immersive experience that benefits both zoo animals and zoo visitors alike!