We know that our guests are waiting in eager anticipation for the opening of Lehner Family Foundation Wild Asia next week. All of the animals in the area have proven to be fan favorites, from fluffy red pandas to inquisitive gibbons, but none are so majestic as the Sumatran tigers.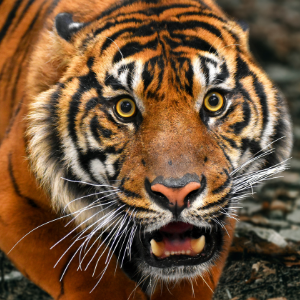 Two tigers, Eko and Diburu, will make their public debut in Wild Asia. Eko, whose name means "first child" in Indonesian, is the son of the Akron Zoo's former resident tiger, Kami, who now lives at the Oklahoma City Zoo. Eko was born in September of 2017 and was the first animal to move into Wild Asia in September of 2020. He is 250 lbs. and can be a bit grumpy. However, he is highly food motivated and is more than willing to cooperate with his keepers for a treat. 
Eko is joined by Diburu, a 150 lb. female tiger. Her name means "hunted," since there are only an estimated 400 Sumatran tigers in their native habitat today, all of whom are threatened by hunting and habitat destruction. Despite her smaller size, Diburu is almost two years older than Eko. Keepers describe her as a bit of a diva when you first meet her, though she becomes more friendly once she gets to know you. She prefers her female keepers over the males, though the same does not hold true for other tigers - she loves doing introductions with Eko. 
"Eko and Diburu are a recommended breeding pair through the Sumatran Tiger Species Survival Plan," says Tyler McCullough, lead tiger keeper. "Since the two had never met before coming to the Akron Zoo we are taking things slow. Right now, we are doing howdy intros, where the two can see each other and talk to each other through a mesh door, but not physically interact. So far they really seem to enjoy each other's company, and we will hopefully start doing breeding intros in the fall."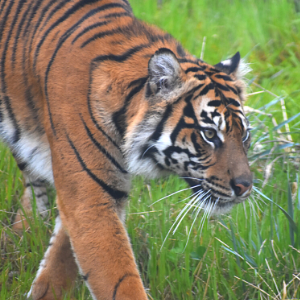 Tigers are solitary by nature, so guests will never see these two in the habitat together. However, Wild Asia features two separate tiger yards, so that both animals can enjoy the beautiful outdoors at once. One habitat features a pool, a cave and a climbing pole where keepers can hang enrichment or food. The other offers a wide grassy field and a ramp to a mezzanine area, where tigers can relax in the sun. This habitat faces stadium seating, where guests can view the tigers or watch keepers conduct live tiger training sessions. There is also more space behind-the scenes, with a brand new keeper kitchen and more space to store food and enrichment.
"Tigers are my favorite animal," continues McCullough. "I'm very excited for guests to see these two and learn more about them. And who knows, if intros continue progressing well, guests may also be looking forward to cubs down the line!"
Get your tickets for the Grand Opening of Wild Asia on May 29 before they are gone! You don't want to miss these "wild" new arrivals. We hope to see you soon!